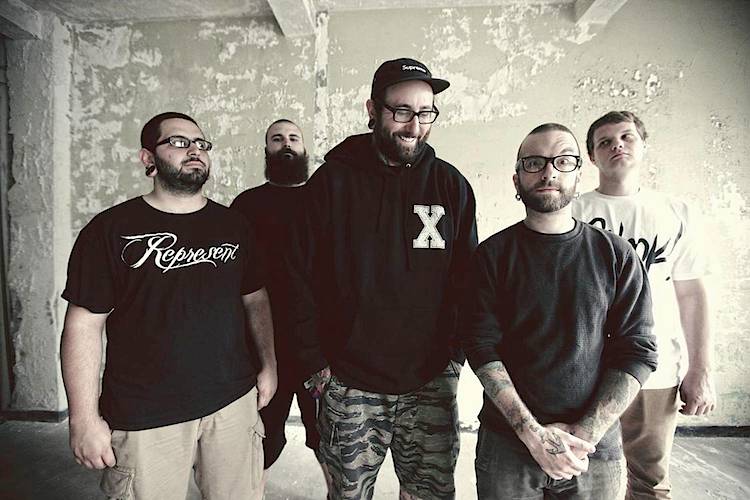 Vincent Bennett—vocals
Seth Coleman—bass
Daniel Daponde—guitar
Daniel Laskeiwitz—guitar
Christopher Daniele—guitar
Kevin Boutot—drums
" We strive to write the heaviest music possible, bottom line," says vocalist Vincent Bennett. "The three guitars, full stacks, and A# tuning help in doing this." That's right, three guitars. Most bands need to record multiple guitar tracks in the studio to achieve the kind of heaviness The Acacia Strain deliver every time they step on stage. This bludgeonous Springfield, Massachusetts sextet may have set out to write the heaviest music possible, but the three-guitar lineup was unplanned.
"The three guitars is not a gimmick," says Bennett. "We try to integrate the three guitars in all of our songs while keeping it as heavy as we possibly can." This unusual lineup came about after guitarist Daniel Laskeiwitz injured his shoulder and The Acacia Strain brought ina guitarist—Daniel Daponde—to fill in for him at an upcoming gig. Laskeiwitz's recovery took less time than they figured and he was able to play the gig after all. Instead of booting Daponde, they kept him in the band and discovered that his presence gave the band the massive sound they'd strived for since forming in 2002.
The Acacia Strain have taken this added musical presence and used it to create a bleak aural Armageddon filled with huge, crushing riffs, Bennett's bestial low-end roar and strange, dark samples. Producer Adam Dutkiewicz (Killswitch Engage) successfully captured this mountain-shaking, post-apocalyptic sound with frightening clarity on 3750, the band's first for Prosthetic Records. It is a huge progression from The Acacia Strain's first album, And Life Is Very Long, released on Devilshead Records in 2003,and clearly puts them at the vanguard of the more experimental metal bands coming out of the Northeast. It is, in fact, The Acacia Strain's ability to draw together such diverse sounds—death metal, noise, doom and hardcore—into a unified musicalforce that sets them among the elite. And they do it while still maintaining an acute sense of melody in the midst of a hurricane of brutal sounds and Bennett's grim, deranged lyrics. Though Meshuggah were clearly an early influence, bands like Neurosis, Coalesce and Dillinger Escape Plan have also had an effect on the members. Not to the detriment of The Acacia Strain's music, though; they created something much larger than the sum of their collective influences. "We don't like really like being compared to other bands," explains Bennett, "because we are trying to write the most original music we can. "
Continent 2008 (Advance)

Tracklist:
1. Skynet (4:22)
2. Seaward (4:15)
3. Dr Doom (2:26)
4. Forget-Me-Now (2:43)
5. Cthulhu (3:27)
6. Baby Buster (4:18)
7. Balboa Towers (4:36)
8. JFC (2:56)
9. Kraken (2:41)
10. The Combine (2:02)
11. The Behemoth (6:37)
http://www.mediafire.com/?om2y0z2qzii
Отредактировано d:E:n (2008-09-04 04:59:35)