Neurosis
Genre(s) Hardcore Punk (early), Progressive Sludge/Post-Hardcore/Tribal/Ambient
Lyrical theme(s) Devastation, evolution through pain, fire & chaos
Origin United States of America (Oakland, California)
Current line-up
Scott Kelly - Guitars, Vocals (Tribes of Neurot, Blood & Time, guest in Mastodon)
Steve Von Till - Guitars, Vocals, later Filters & Textures (Tribes of Neurot, Culper Ring, Harvestman, guest for Jarboe)
Dave Edwardson - Bass, early Vocals, later Moog Synthesizer & Space (ex-High Tone Son of a Bitch, Tribes of Neurot, Jesus Fucking Christ)
Noah Landis - Keyboards, Organ, Piano, Samples & Atmospheres (Tribes of Neurot, Blood & Time)
Jason Roeder - Drums (Tribes of Neurot)
-------------------------------------------------
Neurosis is a highly influential[attribution needed] experimental metal band, based out of Oakland, California. Their unique sound draws from influences ranging from hardcore
punk and doom metal to dark ambient, industrial, and tribal music as well as incorporating elements of indie, folk music and crust punk. Critic Brian Russ of BNR Metal has
described them as "Atmospheric Hardcore".
The band is highly regarded as one of the pioneers of the post-metal genre.
-------------------------------------------------

1990 - The Word As Law
http://ulozto.net/file/XWhd18ytiNzB/neu … 28kbps-rar


1992 - Souls At Zero
http://cloud.mail.ru/public/c042674f5d12/Neurosis.rar


1993 - Enemy of the Sun
http://ulozto.net/file/rifgD4EF/neurosi … he-sun-rar


1996 - Through Silver in Blood
http://yadi.sk/d/nGXxBRRBvsqir



1999 - Times of Grace
http://cloud.mail.ru/public/3eabab5effbe/Neurosis - Times Of Grace (1999).rar



2000 - Sovereign (EP)
http://yadi.sk/d/eeyA2krSWNxTT
192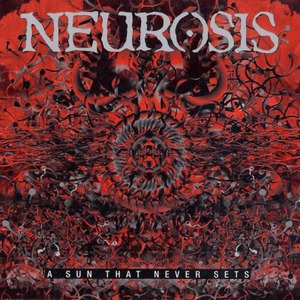 2001 - A Sun That Never Sets
http://yadi.sk/d/X8kJnhJz3R8UBj


2003 - Neurosis & Jarboe
http://cloud.mail.ru/public/ba1aa924b9b6/N03J.rar


2004 - The Eye Of Every Storm
http://yadi.sk/d/l9awd23Qv7hrD



2007 - Given To The Rising
http://yadi.sk/d/7zvigzBK3DX9Zs
--------------------------------------------------
Культовая группа для всей сладж\пост-метал сцены, в частности для таких команд как:
Isis, Cult of Luna, Mastodon, Pelican
ps первый альбом сильно отличается от всех остальных, там панкуха)
Теги: Post-Metal, Sludge, Post-Hardcore, usa